Pune Based Gaming Company has developed India's First Battle Royale Game and created a Huge Impact Worldwide. The Indus Battle Royale has already crossed 1M Pre-Registration on Android and which truly indicates the Excitement of Gamers for Indus Battle Royale Gameplay. Indus has done 2 Playtest already and Now they have announced 3rd PlayTest for Surat, Gujarat with Registration Link.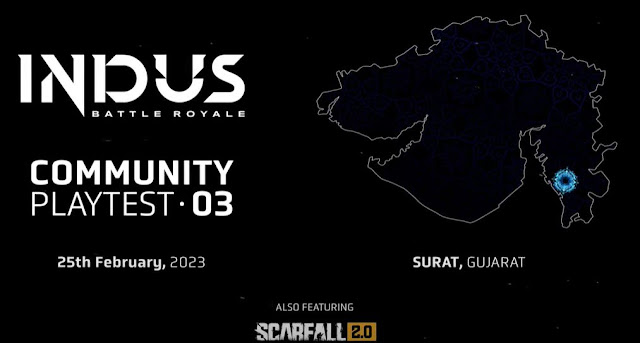 So, If you are from Surat, Gujarat you have an Opportunity to Try out Indus Battle Royale Game before Release and you can Suggest Improvements or Feedback to the Team including Graphics, Weapons, Map or any other Enhancements they wants. By Scheduling Playtest at various locations in a Country, Indus Battle Royale Makers are planning to Create a Best Ever Game be getting review from the passionate gamers
"This time around we are hosting Community Playtest 03 with one of India's hottest upcoming studios 'XSQUADS Tech' based out of Surat, Gujarat with their soon to be released title Scarfall 2.0. XSQUADS TECH were winners of Studio Game of the Year at IGDC, 2022 and Game Studio of the Year at GEM Awards, 2022. You are going to be one of the select few Mythwalkers around the world to playtest Indus and Scarfall 2.0 together before the rest of the world!", Indus Company revealed.
Indus Community Playtest 50 Slots are Available. Registration Form Mentioned below. Submit your Entry and be the First to Test Indus Battle Royale Game. Selected Entries will be Contacted Via Email or Phone.
Date – 25th February 2023
Venue – Surat, Gujarat
Community Playtest 03 Registration Form : https://bit.ly/IndusCP3
Before Surat, They have had Earlier 2 GamePlay Test at Pune and Bengaluru which helped them to get Better Version of Game Play and Now with Improved Version of Game they are conducting their 3rd Battle Royale Game Test in Surat, Gujarat. So, If you are a Passionate Gamer, Go and Help the Team to Test and Suggest any improvements you want, Feedback from your side as a gamer is much needed because 'Indus Battle Royale' is the First and Biggest Game Play from the Country to Place India in a Global Map of Battle Game Play.